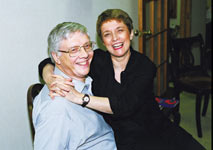 Bonnie Byford, B.A., M.Ed., Broker of Record, President
& Richard Byford, M.R.I.C.S., Broker, Vice-President
Bonnie Byford Real Estate Ltd., Brokerage
Address: 1536 Bayview Avenue
Years in Business: Established in 1977
As Published In The North Toronto Post
© May 2007

Yes, there really is a Bonnie Byford!

Founded in a one-room office on Eglinton Avenue, it took only months for Bonnie to move to the storefront location that would quickly become a thriving family business and an "institution" on South Bayview.

For almost 30 years, residents young and old have stopped to peer into the famous dollhouse and check the "listings board" for local real estate news. The atmosphere of Bonnie Byford Real Estate has always been one of comfort, emphasizing top quality service with a personal touch. Even Bonnie's office was designed to feel like home. After only weeks in the new Bayview location, Bonnie's husband, Richard left his career as Project Manager with a large commercial developer and joined his wife in Residential Real Estate. Once the Byford Team got started, there was no turning back.

Fast forward to 2007, the 30th Anniversary of Bonnie Byford Real Estate. Daughter; Susan Byford joined the team as Sales Representative & Office Administrator. A bit of a technology junkie, Susan provides in-house graphic and web design, so in this fast-paced era of computers and the Web, the company has a well established online presence that remains consistent with their community spirit and personal touch.

With decades of experience assisting home buyers and sellers with what could be the most significant decisions in their financial lifetimes, Bonnie Byford Real Estate remains "Committed to Excellence".


---
Susan Byford, B.Sc., Broker
Susan was born and raised in Leaside -- attended Rolph Road School, Bessborough P.S. and Leaside High School. She also feels as if she was "born and raised in real estate"! Susan and her sister will tell you that they started in the business in their toddler years -- after all, while still in diapers they had already attended offer presentations, listing presentations, showing appointments and visited endless open houses.

Upon graduation from Leaside High School, Susan continued on to the University of Toronto. After earning her Bachelor of Science degree, Susan decided to help out with the family business. Starting off as the receptionist, it wasn't long before she completed her courses and became a licensed sales representative. Polishing her skills in the office, she recently acquired her Broker's license, and keeps everyone on their toes as the company's office administrator and IT Manager.

Susan's personal interests are quite diverse. She is a self-proclaimed computer-geek, fluent in HTML and CSS; Susan designed and maintains the Bonnie Byford Real Estate website. When she's not in front of her computer, you will probably find her as far away from technology as possible, galloping through the York Regional Forest on her Canadian Horse named "Mohican".


---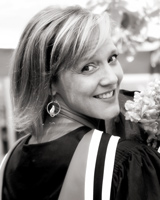 Sarah Byford, Honours Bachelor of Therapeutic Recreation, Sales Representative
Like her older sister, Sarah was born and raised in Leaside, although she agrees with her sister's claim that they were "born and raised in real estate"!

Sarah followed a different path and spent her early working life in management in the food and beverage industry, including time as a territory manager for a major brewery. She loved this work, but decided to take on a new challenge. She has recently completed an Honours Degree in Therapeutic Recreation, a career that will highlight her creativity and passion for people. She maintains her real estate license in the family firm and works alongside her sister, Susan, whenever possible.

Sarah's creativity is also brought to life in our office window every season. Viewing Sarah's original and ever changing window displays has become an essential part of promenading along Bayview Avenue for families of all ages!


---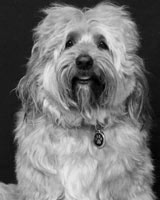 Mojo, Office Dog

Originally from the Ottawa area, Mojo is a Tibetan Terrier who's specialties include napping, looking cute & morale boosting.

He brings smiles to staff & clients' faces no matter what the situation.

A graduate of puppy school, beginner's agility and family dog classes, Mojo is able to excel at all the challenges that office life provides.



---
Our 'real estate family' is always ready to assist you --
whether buying, selling, leasing... or just to chat!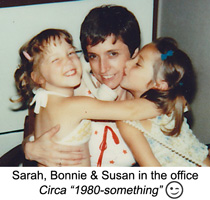 From our clients...
"This is a little note to say a BIG THANK YOU for all your expertise, guidance & friendship. You are the best. Thank you very much."
~France & Simon

"We truly appreciate all you have done. We have never had an agent so prompt with responses and answers to our questions. We would have no hesitation recommending you."
~Curtis

"Thank you so much for all your running this past summer! I don't know how to thank you enough for all the unseen, unknown things you did for me and the house."
~Ruth

"Both Richard and Susan's expert advice and good cheer made searching for the right home to buy (with two small children in tow) a very smooth and enjoyable process! Then efficiently and effectively selling our home in a very quick turnaround and with multiple offers was fantastic! It was a true pleasure to have your help - thank you both so much! "
~Sarah & Raul

"Thank you for all your advice, support and guidance as we purchased our first home. You made something quite scary, a great experience. Thanks for the laughs!"
~Claire & Brady

"We both want to thank you for all your expert advice...I don't know what we would have done without you. You know your business and it certainly shows. THANK YOU!!"
~Joyce & Donna

"Thank you for all of your patience in helping us find our DREAM HOME!"
~Len & Robin

"We are so happy with our new home, it was quite the journey to get here, but you guys were so patient and supportive...we will certainly pass on our rave reviews!"
~Kelly & Max

Thanks again for all your patience with me, and for helping me find a home that is perfect for my needs. I'll definitely recommend you to all my colleagues and friends."
~Jordan

"The service received at Bonnie Byfordís was second to none and we appreciated Richardís calm hand at the tiller whilst we navigated this particular storm of life that is selling your home - not house, but home, a fact that we felt we never once needed to explain. Thanks"
~Bruce

"A tribute to your skills...it has also pleased us to deal with an independent neighbourhood Realtor."
~Joan & Jim

"With your superb handling of the events we just sat back and enjoyed the process...You hit the ground running with style and grace and got the job done."
~Stephen & Wendy